I have originally put together this web site back in 1996 telling you a little about myself. Since then, it has outgrown so many "hosts" that it needed a final home as "Sky-Chaser"! This should be an easy name to remember for hurricane chasing, storm chasing, severe weather, extreme journalism, skydiving, photography, travel, computer graphics and video, computer programming, Web design, and much more! I am a computer programmer / analyst, writer, skydiver (USPA C30317), amateur photographer, extreme storm journalist, and computer artist. I enjoy flying and aerobatics, boating and jet skis, surfing, HAM radio, skydiving, and videography. I am also a volunteer SKYWARN storm spotter (FL B036 / 5257) for the National Weather Service as well as a licensed HAM radio operator (KG4PJN).

"Sky-Chaser" Consulting, as this site reflects from a business standpoint, mainly specializes in storm / hurricane chasing, and other documentation of extreme weather events for media, educational, charity / benefits, and public awareness goals. This site also contains my computer consulting services in PICK (Universe, Unidata, and similar Multivalue-DB oriented) programming for many major business requirements. The "Sky-Chaser" site also has lots of information about my other sports, hobbies, and lifestyles besides storm journalism and computer consulting. I feel you should enjoy or even be able to utilize some of the areas on this web site for anything from education to entertainment ... And be sure check back often, because it is updated on a continuous basis!
Chris Collura - Sky-Chaser Consulting - HAM KG4PJN - Skywarn FL B036 / 5257 - USPA C30317
My FaceBook Page Is Available HERE - Check Out My YouTube Channel HERE!
Since 1996! ... Last Major Site Update: Tuesday - November 4, 2014
(Click HERE To Check For Live Video Stream When An Active Chase Is In Progress)
---
TABLE OF CONTENTS - CLICK TO GO TO PAGE
---
ADS FROM SPONSORS FOR THIS WEB SITE
Whether you're chasing tornadoes in the midwest or simply scheduling a party, WeatherStudio has got you covered ... Find out more by following the link for it HERE!
Timeshare resale companies claim they can help you sell timeshares and that a buyer is waiting in the wings. However, shocking data reveals that timeshare resale companies donít always follow through with promises. The best solution is with Donate Timeshares and The Wyatt Foundation.
Be sure you have full printer inkjet cartridges before printing this page. Only use the best printers with high quality discount printer cartridges.
---
NEWS AND INFORMATION
STORM CHASER JIM LEONARD PASSES AWAY - NOV 3, 2014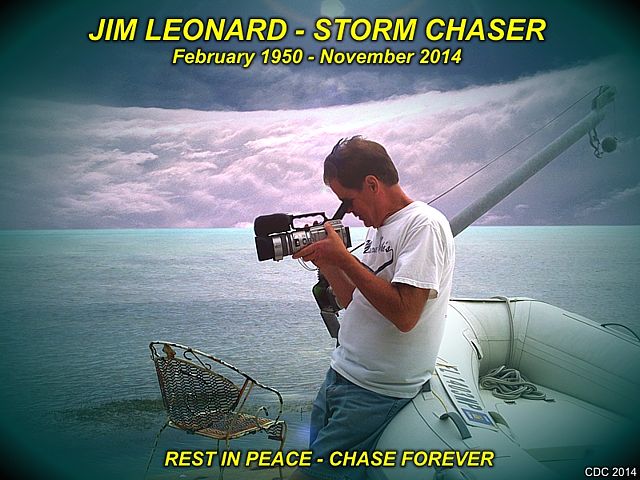 of November 3, 2014 at the age of 64. He passed away peacefully (with his sister and best friend / chase partner Mike Theiss beside him) after a long battle with cancer and ataxia (a degenerative neurological condition). Jim was one of the most influential and inspiring people known to the chasing community. He has pioneered typhoon and hurricane chasing, as well as mastering tornado alley's storms for many years. Many of us storm chasers knew about him, and many of us were lucky enough to meet him. In the images above, you can see him hosting his annual storm / hurricane chasing get-together and BBQ in the Florida keys in 2009 and 2010 among many other times (mastering the "grill" as well)! He will not be forgotten and certainly has inspired many ... And now he can be on EVERY storm!

Please take some time to visit my STORM CHASING EVENTS section, as you can see him in many of those areas. You can jump to these sections by clicking the link for 2009 HERE or 2010 HERE.
HURRICANE "GONZALO" BERMUDA DIRECT-HIT

Hurricane "Gonzalo" was a powerful hurricane that reached category-4 strength over the tropical north Atlantic in mid October 2014, with sustained winds of 145 MPH. The rather quiet Atlantic season came to life with this storm, which affected Antigua and eventually Bermuda, with the storm eye passing right over the island during the night of October 17 as a strong category 2 storm. I did NOT chase this storm, but watched the amazing path, with the two images above (IR satellite to the left, and Bermuda radar reflectivity to the right) showing the island of Bermuda (also circled) in the core / eye of the hurricane for some time. Damage was mainly to power poles, signs, and trees on the island - With no deaths, which was very fortunate.
AEROBATICS IN EXTRA 300L AT GAUNTLET WARBIRDS

See a real interesting flight I took on an Extra 300L aerobatic plane at Gauntlet Warbirds in Sugar Grove, IL in early October 2014. The image above contains a link to a video on this flight, which is also available in the FLYING section of this web site. You can also click the link HERE to view the video as well.
HURRICANE "ARTHUR" CHASE IN NC ON JULY 3-5

Hurricane "Arthur" was the first named storm of the 2014 Atlantic hurricane season. The storm was intercepted in North Carolina from the Morehead City / Atlantic Beach area late on July 3 then again before dawn on the outer banks south of Nags Head, NC. The storm was a category 2 hurricane with winds of 100 MPH. This was also the first hurricane chase since 2012. I now have a full chase log for this intercept, and it is available in the STORM CHASING section of this site (in the tropical cyclone section). To go right to the page, please click the link HERE for it. You can also see a video of the chase, and the link for that is also on the page for hurricane Arthur, or you can click the link HERE for it as well.
---
SPECIAL OFFERS
Check out the latest DVD productions, as well as many others, plus high-reolution photos by visiting my special "offers" page for photography and video documentaries at the link HERE!
---
Follow This Link To Check Out My Media Sales / Inquiries Page

This area is where any special sales / media opportunities will be posted, so plese watch this area carefully. You can also click the link above, or click HERE to jump to my media sales / offers page.
---
MAIN DIRECTORY FOR THIS WEB-SITE

Chris Collura's FaceBook Page



Geraldine Collura's Deceased FaceBook Page (Removed)


Sky-Chaser BLOG Page


Airshow! Aviation At Its Finest

Alcatraz Island And Prison


America - Tributes Plus September 11, 2001

Art And Drawings Gallery


Aviation And Flying

Aviation And Propulsion Principles

Buddha Audiobook Religeous Benefit Project (External Link)

Car Burglary At Miami TGI Friday's

Chris Collura's Career RESUME

Goodies And Cool Stuff

Information On Diabetes

Internet Fraud - Always A First Time!

Outdoor Activities And Boating

Pets And Animals Page

Roller Coasters And Extreme Rides


Sky Diving And Other Extreme Sports

Software Products Page

Special Offers And Media Sales Page

Storm Chasing By Chris Collura

Surviving A Roll-Over Car Accident


Tesla Coils Plus "Weird Science" Stuff

---
IMPORTANT INFORMATION FOR MEDIA INQUIRIES
All of my stock-video footage is also managed by my agents at Conus Communications. Please refer to CONUS first as they can be of much better help at providing any fulfillment of STOCK video requests (this does NOT include DVD productions offered on this site). For such STOCK footage requests, please contact Chris Bridson at CONUS. Their phone number is (651) 642-4576, or you can go to their official web site at the link WWW.CONUS.COM.
You can review all production videos, DVD's, documentaries, and stock video on my OFFERS page which can be viewed by clicking the link HERE. Please not that you can request STOCK video through me directly, or through the CONUS archive, which is much easier!
---
May A THRILLING Time Be In Your Immediate Future!
\\|//
(@ @)
----ooOo--\ ( ) /--oOoo----
~


"I Thrilled All The Visitors Below!"

---
ABOUT THE AUTHOR
View Information About The Author Of This Site

This entire web site is the work of Christopher Collura (myself) and is intended for informative, entertainment, and educational purposes. The intent is to show the pure thrill and essence of natural phenomina, extreme sports, experiences, and many other unique things or events, many from viewer's perspective. Please click the link above to find out more information about myself, the author of this great web site.
---
HTML File "index.htm" - Developed By Chris Collura