---
CHASE 2008 - EXTREME SEASONS DVD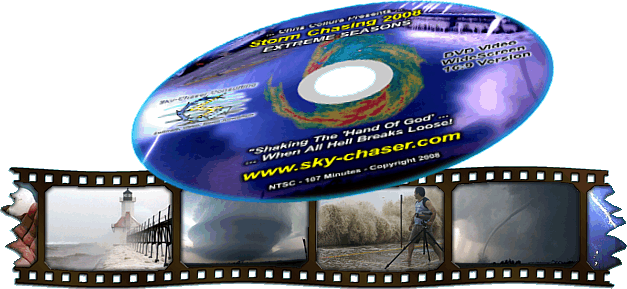 See mother nature and weather at their worst with the 2008 "Extreme Seasons" DVD! Nearly two hours of compelling footage starts with one of the earliest-in-the-season tornado events near Memphis, Tennessee on "Super Tuesday" (Feb 5, 2008) followed a bone-chilling lake-effect "frozen hurricane" blizzard in coastal (Great-Lakes) Michican just 5 days later! Then its off to "Tornado Alley" in the Spring of 2008 with some of the most violent tornadoes, up-close and personal (maybe even too close)! This presentation is not for the faint-of-heart, and some footage will have you on the edge of your seat.

See tornadoes directly impacting storm chasers, literally becoming more of "the chased" than "chasers". Watch a large "satellite" stove-pipe tornado go around a mile-wide wedge tornado with 100+ MPH RFD winds as day becomes night. See gigantic hail total a car in minutes. Watch muddy Kansas dirt roads turn into vehicle "fly traps"! See some of most impressive supercell structure ever observed.

After tornado season, it's time for hurricane chasing, with tropical storm Fay and hurricanes Gustav and Ike in the Summer / Fall of 2008. See the eye of a hurricane's calm star-lit skies in Ike, followed by a 15-20 foot storm surge as Galveston, Texas is both put underwater parts set on fire. Watch the mass evacuations before and daring rescues / piles of boats left behind in the aftermath. See a rare commercial airline flight high across the eye of tropical storm Fay! This DVD has just about every extreme and raw power of the four seasons!
---
HOW TO ORDER THIS VIDEO - PAYPAL ALSO ACCEPTED
ORDER THIS VIDEO VIA PAYPAL - PLEASE CLICK THE BUTTON BELOW
ORDER THIS VIDEO VIA OTHER MEANS - PLEASE PLEASE CONTACT ME AT THE EMAIL BELOW

---
VIDEO PREVIEW CLIPS - REAL VIDEO FORMAT
Ch 1: "Super Tuesday" Tornadoes (Feb 5, TN)
Ch 2: Lake-Effect Blizzard (Feb 10, MI)
Ch 3-4: Tornadoes / Floods (Apr 8-11, TX) / AR
Ch 5-6: Tornadoes (May 1-2, KS / IL / WI)
Ch 7: Supercells (May 21, CO)
Ch 8: Tornadoes (May 22, KS)
Ch 9: Tornadoes (May 23, KS)
Ch 10: "Bust" Day (May 24, NE)
Ch 11: Supercells (May 25, KS)
Ch 12: "Gorilla" Hail (May 26, KS)
Ch 13: Supercells (May 27, OK / TX)
Ch 14: Tornadoes (May 29, KS / NE)
Ch 15: Supercells (May 30, IL)
Ch 16: Supercells (Jun 22, IN)
Ch 17: Tropical Storm "Fay" (Aug 19, FL)
Ch 18: Hurricane "Gustav" (Sept 1, LA)
Ch 19: Hurricane "Ike" (Sept 12-13, TX)
You can PREVIEW video clips containing either scenes from the video package or video clips relating to it. Click on one of the links above (requires REALPLAYER). If you do not have REALPLAYER, you can get a free copy of it by clicking HERE.
---
HTML File "offers11.htm" - Developed By Chris Collura
To Return To The HOME Page Of This Site Click The "INDEX.HTM" Link Here!