---
HURRICANE CHASING 2005 - ARLENE, DENNIS, KATRINA, RITA, AND WILMA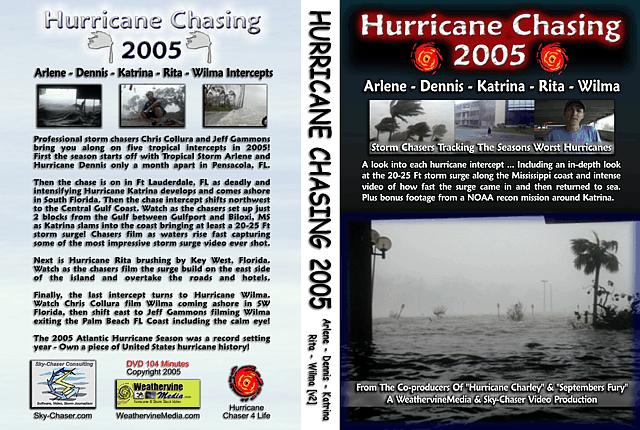 Here it is ... The entire hurricane season of 2005 up close and personal! Brought to you by the same producers of the now famous hurricane Charley and September's Fury video packages of 2004, see that season get exceeded in terms of destruction in 2005! Start out with 70-MPH Tropical Storm Arlene hitting Pensacola, Florida on June 12, in the same place devastated by hurricane Ivan in 2004 less than one year prior. Then, Pensacola gets whacked again on July 10 by 120-MPH hurricane Dennis just one month after Arlene! After a warm-up to 2005, witness hurricane Katrina in all her horiffic details as she first slams south Florida as an 80-MPH category one storm late on August 25, then procedes into the SE Gulf of Mexico on August 26, where our chase team flies the storm with NOAA's Hurricane Hunters aboard their Gulfstream IV SP research jet. We then shift to between Gulfport and Biloxi, Mississippi and station ourself along the coast as category 4 / 5 hurricane Katrina puts on a deadly show of 150-MPH winds and a storm surge over 25 feet! See the grim and surrealistic effects of a tidal surge with waves over 10 feet INSIDE the lobby of a sports complex, then the grim aftermath of the storm. The chasing still continues with hurricane Rita brushing Key West, Florida with winds near 100-MPH and another storm surge on September 20. Finally, hurricane Wilma, the strongest hurricane ever seen in the Atlantic, strikes Mexico then rips its way across southern Florida from near Naples to Palm Beach with a 100-mile-wide swath of 125-MPH winds on October 24.

Available in both DVD and VHS formats ... This video package is put together fabulously, and not only portrays the actual intercepts of hurricanes, but a look at the entire hurricane season of 2005, with details focusing on the records broken during the season, including exhausting the entire list of available storm names and having to go to the Greek (phonetic) names! The DVD features detailed views of the storms chased, as well as incredible 3D graphics and fly-overs / zoom-ins of storms and regions impacted. The video package tells the story of the storms of 2005 in a compelling fashion, while focusing on storm intercepts, as well as showing you how BAD it can really get - This will be both EDUCATIONAL and ENTERTAINING!

This fantastic portrayal of these five tropical monsters and the record-shattering 2005 hurricane season, seen through professional hurricane chasers like myself and Jeff Gammons (with former "Weathervine"), is now available in DVD format, for the price of $25.95 INCLUDING shipping! If you want to order the video, please note the ordering information provided below. Hurry - Production of this documentary DVD is limited - And they are going fast, and once they are gone, that's it!
---
HOW TO ORDER THIS VIDEO - PAYPAL ALSO ACCEPTED
ORDER THIS VIDEO VIA PAYPAL - PLEASE CLICK THE BUTTON BELOW
ORDER THIS VIDEO VIA OTHER MEANS - PLEASE PLEASE CONTACT ME AT THE EMAIL BELOW

---
VIDEO PREVIEW CLIPS - REAL VIDEO FORMAT
Hurricane Chasing 2005 Trailer Video
Hurricane Dennis Video
Hurricane Katrina Video Part 1
Hurricane Hunters Flight For Katrina
Hurricane Katrina Video Part 2
Hurricane Rita Video
Hurricane Wilma Video
You can PREVIEW video clips containing either scenes from the video package or video clips relating to it. Click on one of the links above (requires REALPLAYER). If you do not have REALPLAYER, you can get a free copy of it by clicking HERE.
---
HTML File "offers08.htm" - Developed By Chris Collura
To Return To The HOME Page Of This Site Click The "INDEX.HTM" Link Here!