---
HURRICANE CHARLEY - PUNTA GORDA, FL
(NOTE: DVD IS OUT OF PRODUCTION - NO LONGER AVAILABLE)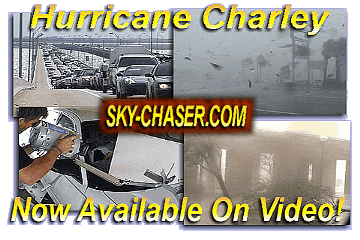 This video production was an incredible success and we thank everyone who made it possible! Unfortunately, this video is no longer available as only a limited number of DVDs for this project were produced and all have been sold out as of early March 2005. You can still read the description used for this production below. Preview video clips in REAL format have also been kept up for you to view as well!
No longer available - The video of before, during (yes, DURING), and after hurricane Charley dessimated the SW Florida city of Punta Gorda on Friday, August 13, 2004! This is as extreme as it gets, nail-biting, in-your-face, and down-right terrifying ground-zero footage from a group of six professional hurricane chasers all wrapped up in one unforgettable video. Watch the moments leading up to the storm, cringe seeing the hopeless Florida town's disintegration in winds gusting to over 175-MPH, then the grim aftermath making you wonder how we all made it out alive - All in a story no one else can tell in words. This is a video that is a piece of history and not for the faint of heart ... This video is no longer available ... If you have any questions, CONTACT ME via the contact information below!
---
WE ARE SORRY BUT YOU CAN NO LONGER ORDER THIS VIDEO
THIS PRODUCTION IS SOLD OUT AND NO LONGER AVAILABLE
WE ARE SORRY BUT "HURRICANE CHARLEY" IS NO LONGER PRODUCED AND SOLD OUT

Feel the power of hurricane Charley in gripping words as you read this compelling story I wrote up just for this web site called "Hurricane Charley - A Hurricane Chaser's Story" ... Click HERE to jump right to the story and read about the fury the people who chased hurricane Charley witnessed first-hand for yourself!
---
VIDEO PREVIEW CLIPS - REAL VIDEO FORMAT
Hurricane Charley Video
You can PREVIEW video clips containing either scenes from the video package or video clips relating to it. Click on one of the links above (requires REALPLAYER). If you do not have REALPLAYER, you can get a free copy of it by clicking HERE.

The hurricane Charley documentary won the "Best Documentary" award at the Miami International Independent Film Festival seen in February 2005 ... Thanks for everone who supported this event!
---
HTML File "offers01.htm" - Developed By Chris Collura
To Return To The HOME Page Of This Site Click The "INDEX.HTM" Link Here!