HURRICANE CHARLEY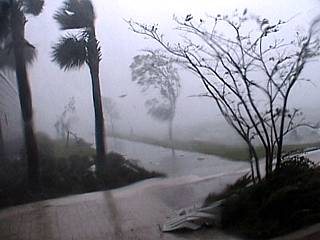 FRIDAY, AUGUST 13, 2004
PUNTA GORDA, FLORIDA

A HURRICANE CHASER'S STORY
BY CHRIS COLLURA






---
HURRICANE CHARLEY - GROUND-ZERO - PART 1

Hurricane season 2004 was a time of one-two hurricane punches for the state of Florida, and a nightmare for insurance companies and public adjusters. Five tropical cyclones were to make landfall that fateful year, starting with tropical storm Bonnie, then hurricanes Charley, Frances, Ivan, and Jeanne. Hurricane Charley was by-far the most destructive storm of that season, and will long be remembered even though the name "Charley" itself has been permanently retired from the Atlantic basin tropical cyclone names. Hurricane Charley, born near Cuba in the Caribbean, like a bad superstitious example, slammed into Charlotte Harbor and decimated Punta Gorda, Florida on "Friday The 13th" in August 2004. After this horrible "entry wound", Charley continued to rip all the way across Florida, crossing Orlando and continuing back offshore off Daytona Beach. During its bullet-like passage, Charley entered Florida at 150-MPH and exited at 90-MPH, leaving a tight path of destruction similar to a large tornado. Six hurricane chasers were to chase this monster storm on the very first piece of Florida land it set foot on, and record the grim fury of a super-hurricane's winds.
As time goes by and our geographic information technology becomes more refined, we may avert the catastrophic damage hurricanes like Charley bring that require the help of doctors, engineers, those with an MBA in healthcare, and other personnel.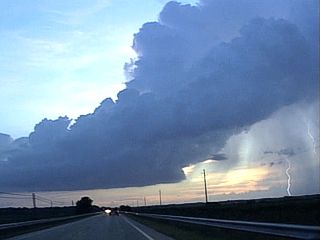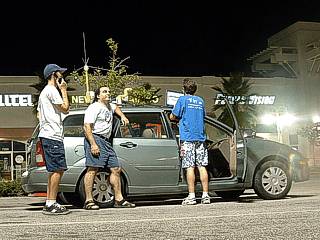 Hurricane Charley was nothing more than a tropical disturbance that came off Africa and moved across the Atlantic into the central Caribbean Sea by August 11. Meanwhile, a weak tropical storm, Bonnie was making way towards the Florida Panhandle. The first two hurricane chasers, Chris Collura and Jeff Gammons, hustled their way up to Panama City Beach, Florida in hopes Bonnie will come ashore there as a minimal hurricane. By Thursday, August 12, Chris and Jeff were only to be disappointed, as Bonnie was disrupted by a frontal zone and weakened before arriving. But this was different ... They figured jokingly, "Oh, well ... At least we have Charley to chase tomorrow!" This was to their excitement, as Charley, a tropical storm at the time south of Cuba, was forecasted to move northward towards the Florida West Coast, and when in a hurricane chaser's life would two tropical cyclones be of interest in only a single day's time span. Chris and Jeff headed back east, and met up with another hurricane chaser, Jason Foster, who drove all the way from Baltimore, Maryland with high-hopes for Charley's opportunities. During the remainder of August 12, they continued towards the Tampa Bay area as Charley was upgraded to a hurricane and the "remains" of Bonnie spawned tornadoes to their north.
During the evening of August 12, Chris, Jeff, and Jason were in Sarasota, Florida and speaking with two more hurricane chasers, Jim Edds from Big Pine Key in the Florida Keys, and Doug Kiesling, who flew into Orlando, Florida from Minneapolis, Minnesota. These were two more people who would join the "Charley intercept team". With hurricane Charley now crossing Cuba, and still intensifying, even OVER the island itself, the chase team geared up for a category two (about 100-MPH winds) hurricane intercept with the primary target set for Bradenton Beach, Florida. After a long and hard time finding a hotel room, the group settled in for the night. The following day was to be one of the most un-nerving, busy, and terrifying experiences imaginable.
- 1 -

---
HURRICANE CHARLEY - GROUND-ZERO - PART 2

Chris, Jeff, and Jason woke early on Friday, August 13. Doug and Jim were also in the same general area. A look at data showed Charley at 105-MPH west of Key West, Florida, moving due north. On radar, the storm looked impressive, much stronger than 105-MPH. As some model forecasts had hurricane Charley rapidly intensifying, Chris commented, "What a beautiful storm, haven't seen that on the Atlantic side in a while. It looks like a 'work of art' but when that comes ashore, it will be a major disaster." This phrase was to remain a permanent haunting memory. Just before noon, the chase team members checked out of their hotels, geared up, and began their trip to the primary target, Bradenton. Once there, another forecast was done on the road, and things changed fast. Hurricane Charley was to come ashore near Port Charlotte, about 40 miles to their south ... So Chris, Jeff, and Jason made a hasty U-turn and hopped on highway 41 to blast south while Jim and Doug also rushed in miles behind them. By 1:30 PM, still heading south through Venice, Florida on highway 41, chilling news came in from the National Hurricane Center's intermediate advisory, "Hurricane Charley has now become a powerful category-four hurricane with 145-MPH sustained winds."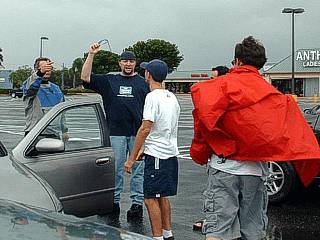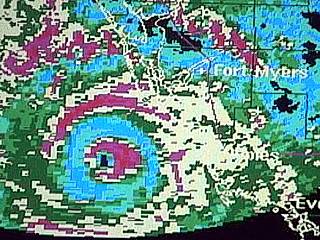 The chase team, expecting only a category-two storm, now had a STRONG category-four thrown right into their laps. Plans changed really fast, from trying to observe the storm in an exposed coastal area to finding a sturdy reinforced concrete structure on high ground! The sky above continued to show more and more signs that something very bad was going to happen, and funnel clouds appeared out of a thunderstorm complex as the chasers continued south on Highway 41 through Port Charlotte at about 2 PM. Despite the impending natural disaster, the chase team continued to execute their expertise in a calm and collective manner, checking where the WORST portion of the storm will hit, and decided on Punta Gorda, Florida just south of the Peace River and east of Charlotte Harbor. Chris, Jeff, and Jason finally met up with Doug and Jim along with another chaser, Mark Rackley, also from the Florida Keys. Spirits were high with apprehension as the now six-person hurricane chase team verified that Punta Gorda was indeed the "place to be". A brisk 20 to 30-MPH southeast wind and light rain prevailed as Jeff preached, "We need to find substantial shelter - Now!"
By 2:30 PM, the chase team was to split up around town. Chris, Jeff, Jason, and Doug sought shelter at the Charlotte County Criminal Justice Building, while Jim Edds positioned himself near the Bank of America Building two blocks to the south. Mark Rackley found his best "safe place" in front of the Celtic Ray Irish pub down the road. These locations all were to deteriorate fast once hurricane Charley's core came ashore, the chasers all knew that. It was time to wait and hope, and Chris and Jeff said "Let God be with us all." The winds slowly began to increase to about 40-MPH by 3 PM, still in light rain, and the low clouds in the sky began to move pretty fast. The radar, accessible via wireless internet, continued to paint the rarely seen "double eye wall" just to their southwest, as the National Hurricane Center reported its last wind measurement at 150-MPH sustained ... This put the storm only 5-MPH under the rare category-five hurricane, the strongest on the scale. My comment was, "OK, we have a super hurricane, one-five-zero miles per hour, not a cat-five, but really close ... It's going to get loud and it's going to get very, VERY bad here!"
- 2 -

---
HURRICANE CHARLEY - GROUND-ZERO - PART 3

Tension continued to mount, as Chris, Jeff, and Jason filmed each other in the rain and wind. Doug went around the corner and filmed the wind-driven waters of the Peace River from a dock. Jim and Mark did the same, filming the bay from under a bridge. Soon this was too precarious, as water is the big killer in a hurricane. The chase team convinced themselves that the offshore winds (southeasterly) and fast movement of the hurricane should spare Punta Gorda from the 20 foot storm surge. 3:30 PM came and went, and tree debris started to fly as power poles began sparking making a loud booming sound. Chris, Jason, and Jeff backed-off the street and resorted to the shelter of the Justice Center, which had an enclosed breezeway into which their vehicles were parked. Doug dodged an increasing number of debris implements, ranging from garbage cans and trees to flying political yard signs, his comments were, "Gee, I am so screwed!" Doug finally made it back to the Justice center as Jim Edds positioned himself between two buildings to film the Insurance Buildings near highway 41 and Olympia. Mark Rackley was primed and ready at the Irish pub.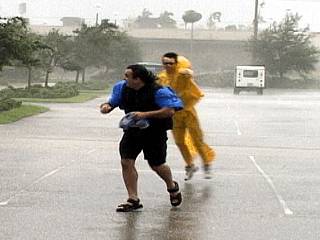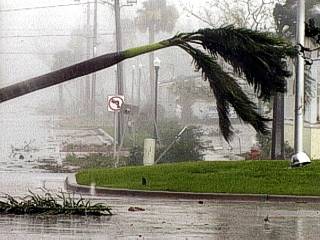 The outer eye wall of Charley made its debut after 4PM. This is where winds were sustained at over 75-MPH, still from the southeast, with heavy showers. The motion of the low clouds became exceptionally fast, making the whole sky look like a "time-lapse". Chris set up his computer equipment to record wind and pressure, measured with equipment on the roof of his vehicle. Jeff was to remain in this vehicle later on during the worst part of the storm as he had never experienced a major hurricane before. Jeff commented, with a team-mates hand shake as if they were about to play a championship, "A DAYTIME category-four hurricane - Our dream - And we are all here." Winds started to rapidly increase, and a low wind roar mixed with a whistling sound became obvious. Chris, Jason, Jeff, and Doug stood at the end of the Justice Center entrance "tunnel" to get ready for the worst. Jim was already filming tree debris, sign parts, trash, and streetlight parts rolling across the street as he gasped, "Oh my God, that would scare anybody!" The outer eye wall passed, and rain let up a tiny bit as the "moat" region between the outer and inner eye walls passed over, until the inner eye wall hit ... That was when the real "fun" began.
The sky became darker again, and the low clouds raced across the sky. Jason commented, "Look at those clouds, that's insane!" as Chris remarked "It's just like being in a movie, but itís the real freaking thing!" The wind and rain was now making a roaring and whistling sound, getting louder and louder. A low, faint rumbling could be heard to their southwest, and Chris and Jason wondered if a freight train was nearby. Reality set in that there was no trains driving at that time, and that sound was the inner eye wall coming aboard, and the same sound as a large tornado would produce. Many victims of hurricane Andrew back in 1992 heard that same sound. The chase team knew that this was serious. Chris, Jason, and Jeff watched sheet metal starting to fly, with the sickening "metallic" banging sound it makes. With the onset of the inner eye wall, a roof of a storage building across the street lifted off. The roof, still in one piece, went completely vertical before slamming back down with a thud you feel more in your chest that you can hear. Mark Rackley barely missed getting hit by that roof itself. Jim Edds continued to hang on and film the debris filled street the whole time.
- 3 -

---
HURRICANE CHARLEY - GROUND-ZERO - PART 4

Still increasing, getting worse, getting louder ... The humbling effects of the inner eye wall was upon the chase team. The air became filled with roof pieces, debris, and boards by 4:30 PM. The debris type went from mere trash and tree debris to more disturbing pieces of sheet metal and boards. Punta Gorda was being destroyed, and there was nothing the chase teams could do about it except watch in horror, document it, and survive. By this time Jim Edds was filming signs being blown apart, palms bending, and power lines straining in the now 120 to 130-MPH winds. Mark looked over head to see the roof of the Irish Pub coming apart as one of the owners pleaded with him, "Please, come inside." The clouds raced across the sky, so fast that you could barely see them. The winds were now a chest-rumbling roar with a high-pitched whistling sound, similar to the sound of a jet airplane. The metal and glass doors of the Justice Center were actually rattling from this sound, as papers went flying through the air as the wind blew out windows of the offices. Palm trees in the parking lot fell as Jeff, in a panic, sought refuge in Chris's chase vehicle while commenting, "There are projectiles everywhere."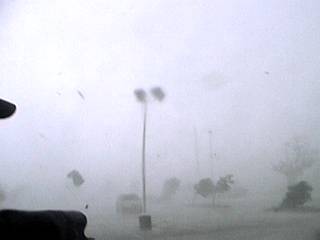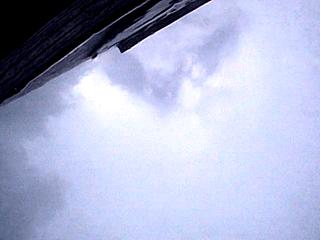 By 4:45 PM, the worst part of the inner eye wall struck. Doug, Jason, and Chris were pinned by the wind on the entrance to the Justice Center breezeway. A piece of sheet metal crashes into the back of Doug's rental vehicle, Chris drops to the ground shielding his face and screaming, "Inbound, get down!" as Doug answers "Were OK, Just leave it!" Jeff films trees in the common area of the Justice Center being felled by the wind. The wind increased to at least 150-MPH with higher gusts to 175-MPH, in total dark-grey white-out of horizontal rain interspaced with flashes of lightning. Chris shouted, "Guys hold-on, we well be in the eye soon, just hold on!" Large pieces of debris filled the sky and raced by overhead. Jim Edds watched the Insurance Buildings roof peel off and fly away before having a piece of sheet metal and wooden board land in front of him. Mark Rackley hides in the lee wind side of a concrete planter in front of the Irish Pub, only to see a 4x8 foot board fly over his head at 150-MPH and disappear out of sight as trees are catching flying debris like a net. The wind became so strong that Chris, Jason, and Doug couldn't even hear themselves scream anymore. Chris shouted, "I want the eye, please!"
The strong winds of the inner eye wall, as to grant a wish to Chris and the others, finally and abruptly, subsided. Jason looks up and shouts, "Guys, the clouds are still!" as Chris clears his popped ears and aims his camera skyward to film the "hole" of blue sky overhead. Jeff comes out Chris's vehicle and says "Chris, we are in the eye." Chris checks the pressure inside the eye and exclaims, "Wow, niner-four-one millibars, could you believe that!" Mark gets up from behind the concrete planter, dusts himself off, and walks into the missing front window of the Irish pub. Jim Edds walks around the front of the Bank Building and checks his chase vehicle, which is smashed in the rear, dented, and missing the sunroof and rear window, presumably by a piece of debris that is nowhere to be seen around Jim's vehicle. Still in the eye, on the eastern edge of it, winds suddenly spin up again from less than 30-MPH to over 100-MPH. Jason and Chris once again hang on as Jason yells, "It might be side-swiping us". In reality, this was what some incorrectly refer to as an "eye wall tornado", a small but violent meso that develops in the area between the calm of the eye and winds of the eye wall.
- 4 -

---
HURRICANE CHARLEY - GROUND-ZERO - PART 5

As the meso passed, winds and rain increased to over 100-MPH, and Jim Edds was tossed right off his feet as he was inspecting the damage to his vehicle. Mark Rackley caught him being blown away just in time, and as Jim got up, dazed, Mark yelled and whistled to him, "Just leave it, it's not worth it!" The mini-swirl feature, as Chris called it, passed by, and the winds in the eye again went back below 30-MPH. Mark returned to the Irish Pub over shards of broken glass and bricks as Jim pulled his nearly destroyed vehicle around to brace for the impending "second half" of Charley. Chris ventured out from the breezeway at the Justice Center to gaze up through the cylinder of roiling and rotating eye wall clouds at the blue sky overhead moving off to the northeast. The winds suddenly shifted from southeast to northwest, and started increasing. Mark filmed the impending drama as one owner of the Irish Pub ventured across the street, only to be chased back by the winds of the second eye wall as people yelled "Get out of the street!" The chase team knew the grim aspect that the storm was only half-over, and that they all will soon have to contend with the same conditions as before, but with winds from the opposite direction.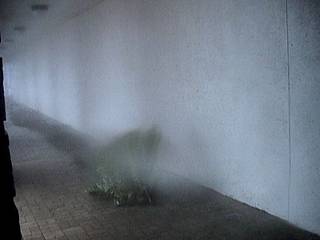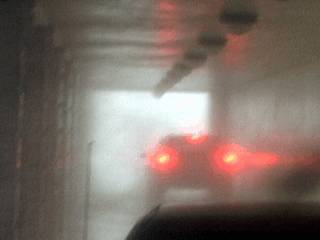 Once again, a wall of wind approached from the southwest, with an increasing wind sound and a darkening sky. Mark began filming debris rolling across the street with the winds from the opposite direction blowing everything back the way it came from. The white-out sheets of rain and wind soon returned, and the wind once again was making the fearful jet airplane, feel-it in your chest sound. Chris hesitatingly looked up at the bright sky for the last time as it was replaced by fast-moving clouds. Wind increased as if a wall was slamming into the Justice Building, and windows blew out with the sound of falling glass. Chris tried to run back to the breezeway, but a large sheet metal piece changes his mind, so he runs into another hallway in the rear of the building. The wind increases to 130-MPH, and turns the hallway into a wind tunnel, sucking Chris into it and knocking him down. With only scrapes on his legs, he manages to get up and lean against the wall of the hallway as metal, glass, and tree debris shoots down the hallway at sword-slaying velocities. He continues to film, until his camcorder dies from moisture, while watching the ambient light fading to dark grey again with flashes of lightning.
On the other side of the building, Jeff, Doug, and Jason once again seek shelter in their vehicles, with Doug's rental vehicle at the entrance to the breezeway. The "wall" of wind roars around Doug and nearly blows his vehicle apart, bouncing it, shaking it, and flexing and buffeting the hood, but by some strange aerodynamic luck, never ripping it apart. The 150-MPH northwest wind and rain formed a strange "coanda effect", shoving all the wind's might around the building and into the common area of the Justice Center, shaking Jason's pickup truck and tearing its bumper right off. Jeff's view from Chris's vehicle was surrealistic, as if the entire breezeway was transformed into a high-speed pressure cleaning tunnel at a mega detail shop. Chris remained pinned to the wall in the hallway, waiting and praying, "God help this place, and God help everyone." A nearly perfect "tornado" of water and spray, caused by the wind interacting with the building, seemed to dance and spin in the common area. Jason barely stuck his wind measuring instrument out window of his truck in the breezeway and measured nearly 65-MPH!
- 5 -

---
HURRICANE CHARLEY - GROUND-ZERO - PART 6

The second half of hurricane Charley's eye wall was the same as the first half. This storm did not have a ďweak sideĒ. Mark was back in front of the Irish Pub, using the opposite side of the same concrete planter as he did before, filming debris and winds tearing apart what was spared by the first half of the storm. Debris was being blown the way it originally came from as Mark shouted, "Wow, this is unbelievable - Oh my God!" The chase team all were convincing themselves that the storm was only going to get better from that point on, as they were inside the second half of the eye wall. Finally, by about 5:30, the winds and rain became less severe, although still extremely dangerous. Chris finally had enough egos to leave the "hallway from hell" and dodge his way across the common area back to Jeff and Jason. In doing so, he watched the impressive whirlwind in the common area finally and suddenly dissipate with a gentle "whoosh". His cameras were soaked and not working but he was glad he was alive. He was also happy to see that Jeff, Jason, and Doug were also in one piece.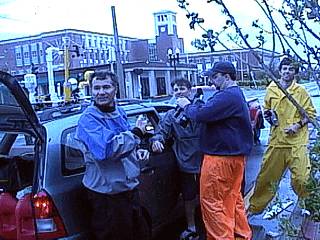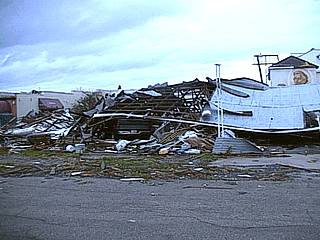 The storm really began to wind-down fast as the eye wall moved away. The Justice Center, new post-Andrew / Miami-Dade building codes, and architects who designed it were praised for helping them survive the storm while allowing them to document it. Part of its roof tarmac was ripped off, only a few windows blown out, roof vent covers blown down, but the building structure remained. Outside the Justice Center, things were much different. Nearly every tree in sight was blown down, many roofs were ripped off or damaged beyond repair, and not a single billboard sign remained. Chris, Doug, Jason, and Jeff finally mobilized at around 6:30 PM, and ventured towards the Bank of America Building. Jim Edds was sitting there, on the back of his heavily damaged vehicle, dazed but unhurt. He was grateful he was not hurt, and joined us as we ventured around the corner to the Celtic Ray Irish Pub. Mark Rackley and the owners of the pub were there, stepping over the pile of broken glass and debris, and having a few drinks that were well needed after such an adrenaline-scare.
All six hurricane chasers stood there, in front of the Irish Pub, now with the wind less than 20-MPH and the rain very light. An eerie silence set over the destruction, making everyone get a lump in their throat as the sobering reality set in. Kevin Doyle, the owner of the pub, looks around with a smile from ear to ear saying, "This is a disaster, we lost a lot, but we will survive, I donít know how ... I am from Ireland, and always wanted to see a hurricane, so here I am." The other owners of the Irish Pub re-righted a collapsed rocker table that was knocked over and all sat down in it to contemplate. Punta Gorda laid before them in shambles, in silence pierced by burglar alarms running off battery backup and stenched with a smell described as a mix of wet sheetrock, cardboard, and freshly snapped trees. A short drive around the area revealed buildings that were totally destroyed, including a body shop where cars were crushed under the collapsed structure. One store front was blown apart, sending reinforced concrete chunks and cinderblock flying, Chris tried to lift a piece of the debris and couldn't even budge it.
- 6 -

---
HURRICANE CHARLEY - GROUND-ZERO - PART 7

Almost immediately, people began to emerge from the buildings of the town, or what was left of it. The chasers wondered who were riding out this hurricane from Hell with them, as well the grim reality of some who probably did not make it. All in all, hurricane Charley was to claim at least 25 lives and cost nearly 20 billion dollars in damages. Another example of the selfish side of people comes to be after any disaster, looting. Doug films two young men stealing 2 gas cans and tools from the destroyed body shop. They saw Doug with the video camera while in the act, told him "I am just borrowing the gas - I know the guy." What they did not know that Doug was filming them, their vehicle, and license plate. They probably were able to figure it all out after a copy of the video of them was turned into authorities. After that, more and more emergency vehicles and law enforcement was entering Punta Gorda. The chase teamís job was finished, and it was time to leave and let emergency rescue and disaster recovery professionals do their jobs.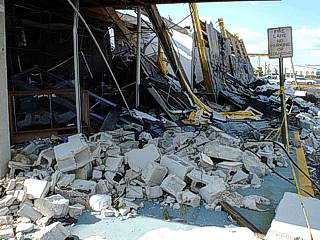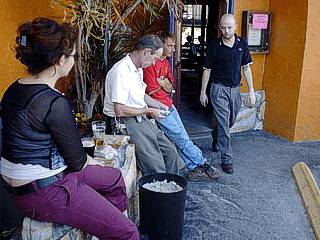 Upon a long and arduous task of leaving Punta Gorda, the chase team was surprised that the path of total devastation in hurricane Charley was very small, and was confirmed with the eye of the storm being less than five miles wide. Doug commented, "If you were not in Punta Gorda, you were not in hurricane Charley." The chase team left Punta Gorda after fixing a flat tire on Jason's truck, and left the damage path once north of Port Charlotte. They were to come back across the damage swath again as they headed back east through Arcadia, Florida, nearly 40 miles inland. This small farming town also was heavily damaged, including a toppled water tower, by hurricane Charley's tight wind core. The chasers finally wrapped up this long day of documenting the bad luck of Friday the 13th of August 2004 around midnight, as the hurricane was over Daytona Beach and going back out to sea well to their northeast.
Hurricane chasers Chris, Doug, Jason, Jeff, Jim, and Mark were mesmerized by hurricane Charley, and figured they would be done for the season ... But three weeks later they would go on to chase hurricane Frances in Fort Pierce, Florida with 105-MPH winds, hurricane Ivan with 130-MPH winds a week after Frances near Pensacola, Florida, and finally yet another Fort Pierce hurricane, Jeanne with 120-MPH winds a week after that. They all put together a set of videos entitled "Hurricane Charley" for hurricane Charley and "September's Fury" for the latter three hurricanes Frances, Ivan, and Jeanne. Out of kindness and offering, they chose owner Kevin Doyle at the Celtic Ray Irish Pub to exclusively market the videos on hurricane Charley, using half the profits as proceeds to help pay for the damage to his pub and building, which did not have insurance. He was able to make repairs and keep his land mark establishment open. This video became a big production as it portrayed the brute-force of a rare daytime land falling super-hurricane from six hurricane chaser cameramen. The later video, "September's Fury", would also portray the other three storms in their destructive ways.
Hurricane season 2004 would be a season these hurricane chasers, as well as others unlucky enough to experience the full fury of a hurricane, will never forget. Hurricane chasing is one of the more precarious types of storm chasing, requires extensive knowledge of tropical cyclones, and is not recommended by anyone who is referenced in this essay. These people can show you how bad a hurricane can be, thus convincing people out of complacency and taking these storms seriously.
- 7 -

---
HTML File "charley_story.htm" - Developed By Chris Collura
To Return To The HOME Page Of This Site Click The "INDEX.HTM" Link Here!