---
"CUT TO THE CHASE" DVD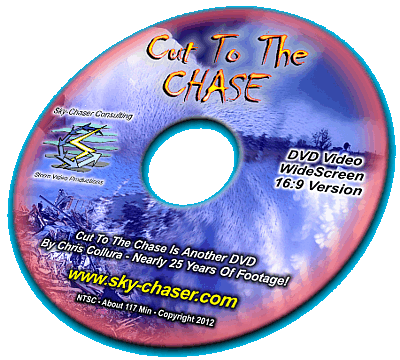 This is a career-long compilation of some of the most intense moments of storm chasing with footage as far back as 1987 (almost 25 YEARS of storm chasing). The most boring parts have been edited out and this DVD has almost two hours of non-stop high-action video! See every form of extreme weather, from thunderstorms and flooding to hurricanes, tornadoes, and even blizzards!

See some of the gripping footage from hurricane chasing projects, including hurricanes Charley in 2004 and Katrina in 2005. See tornadoes intercepted in just about every corner of the Central US, as well as their devastating aftermath. This DVD just about has it all - And then some! ... And it's available online for $21.95, and this INCLUDES shipping!
---
HOW TO ORDER THIS VIDEO - PAYPAL ALSO ACCEPTED
ORDER THIS VIDEO VIA PAYPAL - PLEASE CLICK THE BUTTON BELOW
ORDER THIS VIDEO VIA OTHER MEANS - PLEASE PLEASE CONTACT ME AT THE EMAIL BELOW

---
VIDEO PREVIEW CLIPS FOR THIS DVD - LINKS TO YOUTUBE
Preview Trailer For The "Cut To The Chase" 2011 DVD
Chase 2011 Music Video (NSCC 2012)
You can PREVIEW video clips contained on this DVD by clicking the links for them above. All the clips above, in their entirety, plus many others, are on this special DVD! The video clips require at least a DSL connection and the latest FLASH Media Plugin for best results. These video clips are all hosted to and linked to the YOUTUBE site for compatability (you can visit them at www.youtube.com).
---
HTML File "offers13.htm" - Developed By Chris Collura
To Return To The HOME Page Of This Site Click The "INDEX.HTM" Link Here!