---
CHASE 2009 & 2010 - "TWO YEARS OF STORMS" DVD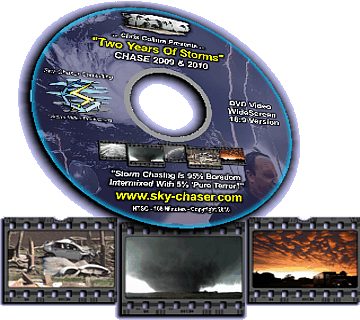 See storm chasing highlights from 2009 AND 2010 in "TWO YEARS OF STORMS" DVD! Nearly two hours of compelling footage starts with two chases in 2009, including June 5th in Nebraska and Wyoming. In 2010 see the devastation and emergency response in Yazoo City, Mississippi, just minutes after a violent tornado struck the town. Awe at the beautiful storm structure across the Central USA in May 2010. See a mile-wide violent tornado grinding its way across the farmland north of Bowdle, South Dakota, plus many other storms and tornadoes. See Pike's peak in Colorado at over 14,000 feet above sea level, then it's off to Bermuda to chase Hurricane Igor!

This DVD has just about every form of violent spring and summer weather imaginable, so check it out ... And it's available for $21.95, and this INCLUDES shipping!
---
HOW TO ORDER THIS VIDEO - PAYPAL ALSO ACCEPTED
ORDER THIS VIDEO VIA PAYPAL - PLEASE CLICK THE BUTTON BELOW
ORDER THIS VIDEO VIA OTHER MEANS - PLEASE PLEASE CONTACT ME AT THE EMAIL BELOW

---
VIDEO PREVIEW CLIPS FOR 2010 - LINKS TO YOUTUBE
Tornadic Supercell - WY / NE (June 5, 2009)

Kansas / Missouri Supercells (June 7, 2009)
Central US Storm Chase Trip I (April 22-24)
Yazoo City (MS) Just After EF-4 Tornado (April 24)
Central US Storm Chase Trip II / OK Outbreak (May 10-12)
Violent Tornadoes Near Bowdle, SD On May 22, 2010
Bowdle, SD Damage Survey / KS Tornadoes On May 23, 2010
Tornadoes In CO / KS On May 25, 2010
Hurricane Igor In Bermuda (September 18-21, 2010)
You can PREVIEW video clips contained on this DVD by clicking the links for them above. All the clips above, in their entirety, plus many others, are on this special DVD!. The video clips require at least a DSL connection and the latest FLASH Media Plugin for best results. These video clips are all hosted to and linked to the YOUTUBE site for compatability (you can visit them at www.youtube.com).
---
HTML File "offers12.htm" - Developed By Chris Collura
To Return To The HOME Page Of This Site Click The "INDEX.HTM" Link Here!