---
STORM-CHASE EXPEDITION 2004 VIDEO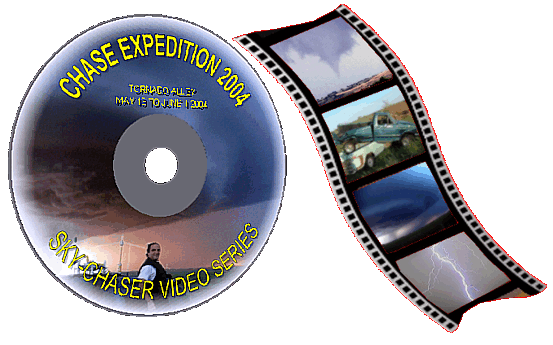 Now FOR SALE! The video of our CHASE EXPEDITION 2004 in Tornado Alley USA! Watch us as we trek across 7 states from May 13 through June 1 in search of the most violent thunderstorms on earth. The video is over an hour and twenty minutes of full-digital video and edited fabulously with annotating text and narrations as our trip unfolds. Even has a short music video at the end of the footage. Great for both educational and entertainment purposes. Price is $21.95 for EITHER the DVD or VHS formats of this video, and this price INCLUDES shipping! To order or find out any additional information - Note the contact information I have provided below!
---
HOW TO ORDER THIS VIDEO - PAYPAL ALSO ACCEPTED
ORDER THIS VIDEO VIA PAYPAL - PLEASE CLICK THE BUTTON BELOW
ORDER THIS VIDEO VIA OTHER MEANS - PLEASE PLEASE CONTACT ME AT THE EMAIL BELOW

---
VIDEO PREVIEW CLIPS - REAL VIDEO FORMAT
Chase 2004 Introduction Video
Chase 2004 - May 16, 2004 (Rockville, NE)
Chase 2004 - May 17, 2004 (Russell, KS)
Chase 2004 - May 20, 2004 (Akron, CO)
Chase 2004 - May 21, 2004 (Norfolk, NE)
Chase 2004 - May 22, 2004 (Hallam, NE)
Chase 2004 - May 24, 2004 (Bellview, KS)
Chase 2004 - May 29, 2004 (Concordia, KS)
Chase 2004 Music Video
You can PREVIEW video clips containing either scenes from the video package or video clips relating to it. Click on one of the links above (requires REALPLAYER). If you do not have REALPLAYER, you can get a free copy of it by clicking HERE.
---
HTML File "offers03.htm" - Developed By Chris Collura
To Return To The HOME Page Of This Site Click The "INDEX.HTM" Link Here!