---
SEPTEMBER'S FURY - HURRICANE FRANCES, IVAN, AND JEANNE
VIDEO IS STILL AVAILABLE - SEE DETAILS BELOW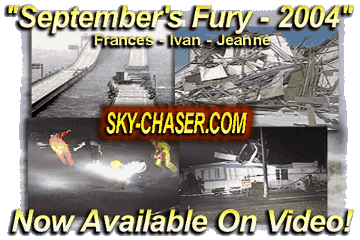 See three hurricanes to slam Florida in only three weeks during September 2004 as you have never seen before in this video set entitled "September's Fury"! INCREDIBLE video of Hurricane "Frances" slowly grinding ashore in Fort Pierce, FL like a buzz saw on September 5 with 105-MPH winds and incredible surge. Then, it was off to the Florida Panhandle for 130-MPH hurricane "Ivan" on September 15 with monstrous waves and tides high enough to destroy the I-10 Escambia Bay bridge. Finally witness 120-MPH hurricane "Jeanne" slamming Fort Pierce, FL on the 25th in the EXACT same place "Frances" did just three weeks prior with more terrifying storm surge, boats being destroyed, and our chase team leaning into the ferocious winds at a downtown parking garage!
This video is STILL available for $14.95 (icludding shipping) ... Please see the information below on how to order it!
---
HOW TO ORDER THIS VIDEO - PAYPAL ALSO ACCEPTED
ORDER THIS VIDEO VIA PAYPAL - PLEASE CLICK THE BUTTON BELOW
ORDER THIS VIDEO VIA OTHER MEANS - PLEASE PLEASE CONTACT ME AT THE EMAIL BELOW

---
VIDEO PREVIEW CLIPS - REAL VIDEO FORMAT
Hurricane Frances Video
Hurricane Ivan Video
Hurricane Jeanne Video
You can PREVIEW video clips containing either scenes from the video package or video clips relating to it. Click on one of the links above (requires REALPLAYER). If you do not have REALPLAYER, you can get a free copy of it by clicking HERE.
---
HTML File "offers02.htm" - Developed By Chris Collura
To Return To The HOME Page Of This Site Click The "INDEX.HTM" Link Here!