HURRICANE KATRINA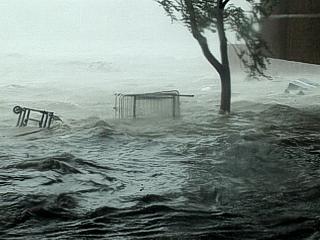 MONDAY, AUGUST 29, 2005
BILOXI, MISSISSIPPI

A HURRICANE CHASER'S STORY
BY CHRIS COLLURA






---
HURRICANE KATRINA - A "MONSTER" IS BORN

Hurricane season 2005 was the most violent, destructive, and busiest Atlantic hurricane seasons of all time, even making 2004 pale in comparison to it. The 2005 hurricane season was to shatter records in hurricane frequency and intensity, as well as use up the entire list of available Atlantic names over a month before the season ended on November 30! Records were also set for number of hurricanes and the number of landfalls, with the most memorable storms being hurricanes Dennis, Emily, Katrina, Rita, and Wilma. Hurricane Katrina was not only the most destructive hurricane, but the worst natural disaster in history in the western hemisphere with far reaching devastation so bad that it brought the United States to levels like those experienced in a troubled third-world country. Originally a tropical wave off Africa, what was to be Katrina lumbered across the Atlantic and came close to being destroyed by a low-pressure trough well north of Puerto Rico. But on August 23, she survived, and became a tropical storm in the Bahamas on the 24th. On August 25, Katrina became a hurricane, crossed southern Florida, and then began her rampage over the warm Gulf of Mexico. On August 28, Katrina had the Gulf Coast in her sights, and became a category five storm, the strongest on the scale hurricanes. Time ran out quick for the Gulf Coast, and early on August 29, hurricane Katrina came ashore near the Louisiana and Mississippi border making grim history and changing the appearance of the coast itself. Three hurricane chasers were right on the Gulf of Mexico, as hurricane Katrina proudly stepped shore, and experienced her fury in ways they never even dreamed of.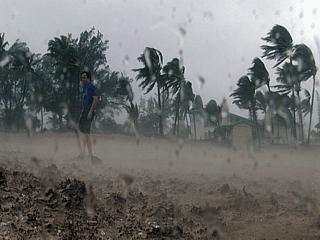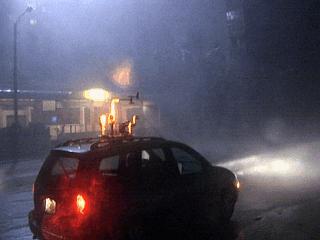 Hurricane Katrina was nothing more than a tropical disturbance that came off Africa and moved with great difficulty across the Atlantic into the Bahamas by August 24, where it became a tropical storm. The system was given the fateful name "Katrina", a name to be retired but never forgotten. One day later, on Thursday, August 25, tropical storm Katrina reached hurricane intensity and made landfall in South Florida near Dania. The first two hurricane chasers, Chris Collura and Jeff Gammons, hustled their way to watch Katrina's 80-MPH winds lash South Florida then awe at the calm and clear eye as it slipped across northern Miami-Dade county. The storm was now over land, and moving to the west and southwest, dumping 15 inches of rain, downing trees, knocking out power, and eroding beaches. With the complacency of being only a category one hurricane, Chris and Jeff laughed about it, but were soon quieted as they learned that 14 people were already killed by the storm, most of which ventured out during the eye and were caught in the second side of the storm. Figuring the storm was over land, Chris and Jeff called it a night late on the 25th, not expecting much more - Or so they thought.
A third hurricane chaser, Jim Edds, was also on hurricane Katrina as it first hit, and followed it across Florida as it continued west and southwest during the night of August 25, weakening to a tropical storm. Jim then got a call from NOAA Aircraft Operations for a VIP press pass aboard a recon mission the following day, August 26, as Katrina was expected to be over the SE Gulf of Mexico. Jim needed some help with equipment, and was nice enough to ask Chris to accompany him as his sound guy aboard the flight. Jeff simply does not like to fly, let alone experience turbulence. With this rapid change of plans, Jim, Chris, and Jeff met up and spent the night at Jeff's place in Okeechobee, FL anticipating a drive to Mc Dill Air Force base in Tampa the following morning. They thought Katrina was finished, but she was just starting, and during the morning of August 26, Katrina was over the SE Gulf of Mexico and back to hurricane intensity. With her west and southwest motion, her ferocious winds began pounding the Florida Keys.
- 1 -

---
HURRICANE KATRINA - HURRICANE HUNTERS FLY THE STORM

Chris, Jeff, and Jim woke early on Friday, August 26 after spending the night at Jeff's place. It was now time for Chris and Jim to drive to Tampa as the NOAA reconnaissance mission was to deploy at 2 PM later that day. Driving across central Florida, they watched Katrina slipping into the warm waters of the SE Gulf of Mexico, re-forming an eye and lashing the Keys with her outer rain bands. They arrived at Mc Dill Air Force Base at about 1 PM and were checked in to the Aircraft Operations Hangar where flight director Paul Flagherty briefed them both on the mission they were about to document. A brisk and hot southeast wind greeted them as they walked towards the NOAA Hurricane Hunter aircraft sitting on the tarmac of the base. There it was, a beautiful Gulfstream IV-SP jet, bristling with sleek instrumentation and an extra-large nose radar cone. As they stepped aboard this magnificent machine, usually a luxury private jet with leather seats for the wealthy, they were presented with a fuselage full of scientific gear, computer workstations, and scientists. They were given a personal safety briefing for the flight by the flight director, strapped in via a 5-point harness, and took off promptly by 2 PM.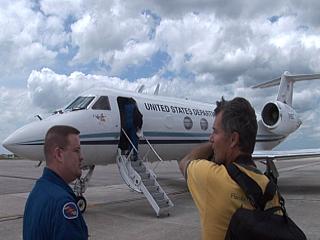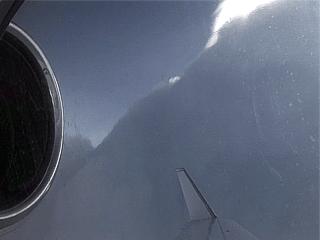 The Gulfstream IV-SP aircraft climbed out gracefully out of Mc Dill Air Force Base as bright and puffy cumulus clouds raced by its large oval windows and leaving racing shadows over its shiny white wings. The jet continued to climb until reaching 43,000 feet, at this height, Chris peers out of the large oval window at a curved horizon and nearly blackish dark-blue sky overhead. The mission here is to fly as high as possible over and around the hurricane, and drop weather instruments called DROPWINDSONDES into the air column. Sounds simple, but the mission was over 8 hours, taking them on a grand tour around the Bahamas, Cuba, Mexico, and parts of the Gulf of Mexico and Caribbean as up to 24 instruments are ejected from the plane to gather information on the hurricane's environment. Jim and Chris interact with the blue-flight suited flight crew, even scientist Chris Landsea from the Hurricane Research Division, and both got a chance to sit in the jump seat in the cockpit as the pilots sat back as the in-flight computer flew the magnificent Gulfstream jet through the tropical stratosphere.
Things got a bit dicey for a while as the NOAA Gulfstream jet made its closest approach to Katrina's hurricane core on a flight path between Key West and Cuba. This was near "lucky" drop number 13, where turbulence rocked the plane, which climbed slightly to 45,000 feet. All that can be seen out the window was a blanket of white ice clouds, but looking upward, thunderstorm clouds erupted above the cirrus deck to nearly 65,000 feet, making the aircraft and crew feel humbled and "small" by their sheer size and majesty. The flight path pressed on, crossing the western tip of Cuba, then passing the NE Yucatan of Mexico, then into the Gulf of Mexico. At least 10 more drops were done, each with a "Three-Two-One Drop!" call by the flight director and sonde station operators. Sunset slipped over the plane about an hour before landing and presented Chris and Jim with a curved horizon and some of the most beautiful colors they ever seen. The last drop was done off Cedar Key, Florida, then it was a rapid 5,000 foot per minute descent into the Tampa area for an 10:30 PM landing. Chris and Jim were impressed, as a hurricane can look so beautiful from above as they debriefed and left the aircraft, parked on the tarmac in the same place as before. The Gulfstream was shut down, and wheeled back into the hangar and wiped off as if it completed a race. Jim and Chris were escorted off the base, and each returned home. The data from the mission would be invaluable in determining the future track of Katrina, and this was to become very apparent in the darker days to come.
- 2 -

---
HURRICANE KATRINA - GULF COAST IN HER "SIGHTS"

Hurricane Katrina was just starting her rampage in the Gulf of Mexico. With the data gathered from the Gulfstream jet mission, a crucial track change was on order, with many computer and forecast models showing storm recurverature. This is where the storm heads west, then turns northwest, and eventually northeast. Unfortunately, the point in the middle of this track, as it was moving north, would be anywhere from New Orleans, Louisiana to Mobile, Alabama. By Saturday, August 27, hurricane Katrina stopped her southwest component and started moving more west, and slightly north of west, as predicted. This track was to verify almost perfectly to the computer forecast models. Hurricane Katrina went from a category two to a category 3 storm, still intensifying rapidly late on August 27.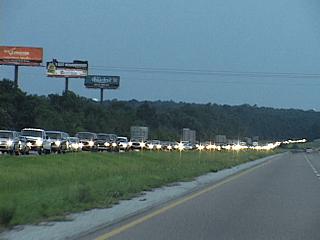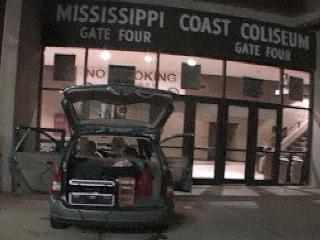 Hurricane Katrina began what hurricane researchers call EXPLOSIVE DEEPENING, where its central pressure, directly related to hurricane intensity, dropped to 902 MB with sustained 175-MPH winds on Sunday, August 28. Hurricane Katrina was now a category five storm, and there was nothing anyone could do in its path besides to get the hell out of its path! But three hurricane chasers were once again doing just the opposite, as Chris, Jeff, and Jim raced as fast as they could to get to the area of expected landfall, the Louisiana and Mississippi border! Armed with extra fuel, food, water, tools, supplies, and their weather station, it was as if they were going into combat. They all knew this would be much different than what happened in South Florida a few days prior, especially after hearing Slidell, Louisiana's chilling National Weather Service forecast late that Sunday on the 28th.
The Slidell forecast had some of the most "strong wording" imaginable, scaring even the most seasoned hurricane chasers. "Hurricane Katrina - A most powerful hurricane with unprecedented strength", "Most of the area will be uninhabitable for weeks ... The majority of industrial buildings will become non functional", "High rise office and apartment buildings will sway dangerously, a few to the point of total collapse ... All windows will blow out", "Airborne debris will be widespread, and may include heavy items such as household appliances and even light vehicles", "Power outages, food, and water shortages will make human suffering incredible by modern standards", "Persons, pets, and livestock exposed to the wind will face certain death ... Do not venture outside after onset of tropical storm forced winds!" Hurricane chasers Chris, Jeff, and Jim pressed on after listening to this, watching the traffic jam of evacuees going the opposite way they were going with hardly anyone on their side of Interstate 10. With the worst weather expected on the right side of the storm, the final and fateful target was the Mississippi Coast Coliseum and Convention Center, west of Biloxi and East of Gulfport. The catch, it is right off highway 90 and only 1/4 mile from the Gulf of Mexico beach.
- 3 -

---
HURRICANE KATRINA - TIME IS RUNNING OUT

Hurricane chasers Chris, Jeff, and Jim were now at the Mississippi Coast Arena and knew it was a good choice. It was now about 10 PM during the night of August 28, and in less than 12 hours, nearly everything that appeared normal around them was to be forever changed for the worst. Crunch time was less than a night away, as they reluctantly surveyed the structure and parking areas. Chris and Jim praised a few very good points, being 28 feet above the level of the Gulf of Mexico, having re-inforced multi-levels of concrete with a domed structure, and most importantly, ramps that their chase vehicles could be driven up in case the surge got "really" high. They moved all their gear out of their vehicles and into a concrete room off level two of the lobby on the lee-wind (Northwest) side of the round building. Setting up in the lower lobby for now, they forecasted and looked at the virulent storm lurking 150 miles to their south. There they were, literally on the beach, fully exposed to the impending fury of a category five hurricane, trying to get at least some sleep, anxiously waiting and, most of all, committed.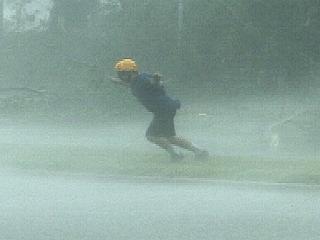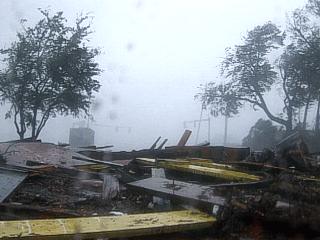 The dawn came late on Monday, August 29 along the Mississippi and Louisiana coastline as hurricane Katrina made her presence felt. She weakened a bit, as a category five hurricane does not stay that way very long, but was still strong at category four. The hurricane forced winds hit, and power transformers began exploding, lighting up the pre-dawn sky with brilliant turquoise flashes. First light revealed small branches and leaves blowing across the coliseum parking lot, as the winds increased to near 80-MPH, making that all too familiar whistling sound for the chase team. Chris and Jim, using the buddy system, daringly braved the hurricane forced winds and ventured down to the entrance to the coliseum parking lot. The storm surge was already 10 feet above the level of the Gulf of Mexico, and its leading edge bordered by a line of wreckage and debris consisting of everything imaginable - boards, trees, dock planks, boat implements, even remnants of a counter top and sink. Each wave would push the leading edge of the debris-line farther up the entrance ramp, as Chris and Jim bravely filmed the drama in their waterproof camcorder enclosures. The first major gusts even made them feel unsafe, and they retreated to the coliseum common area.
Once more, Chris and Jim took turns in the increasing, but still only category-one equivalent, hurricane forced winds - They appeared crazy, as they stood leaning in the winds, at one point being blown over by the stronger gusts, but they are not stupid, and safety became a concern once again when the winds began tossing tree debris and branches alongside them. It was now time to film the storm from the shelter of the coliseum common area near gate 4, and not venture out into the winds and debris anymore. Hurricane Katrina's right eyewall, the worst possible place you can be in such a storm, was just offshore and closing in. There was nothing anyone could do now except wait and pray for their safety and good luck. Time's up. Hurricane Katrina is here. Crunch time has begun.
- 4 -

---
HURRICANE KATRINA - BRINGING A TIDAL WAVE ASHORE

Hurricane Katrina's right eyewall and wind core hit like a freight train at about 9:30 AM. With a darkening sky, the wind suddenly increased to 100-MPH, then 120-MPH, then 130-MPH, or more. The loud rumbling "freight train" sound mixed in with a deafening wind noise made its presence as Chris shouts "This is the eyewall, we are in the eyewall!" A tree across the parking lot falls and an object appears out of the blinding horizontal rains towards the far end of the parking lot entrance. Chris squints and is horrified to see that it is a yacht coming across the parking lot, along a line of debris, with a wall of rushing seawater coming in behind it as he exclaims "There's the surge - Oh my God!" Chris, Jeff, and Jim stay outside as long as they can, watching the storm surge fill the parking lot in seconds and spill landwards. The yacht plows down a light post, and a tree branch skips across the water surface like a stone. The water rises, so fast, higher and higher, flowing faster and faster. Chris and Jeff are reminded of the tsunami in Asia, only with the grim difference that there were winds gusting to near 150-MPH on top of it. They were 28 feet above sea level, and the water was now at that level, and still rising. Chris drops everything and hastingly moves his chase vehicle up the ramp, as far up as he can as another car was already there. He thought it would be enough, then resumes his duties of documenting the unfolding disaster at hand.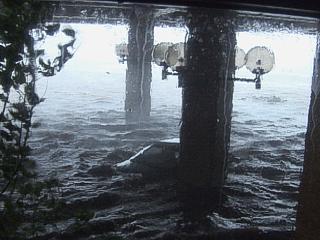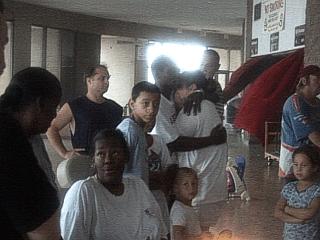 The Gulf of Mexico began knocking at the doors of gate 4 of the coliseum, literally. It was now too dangerous for anyone to be outside, so documenting the storm will have to be from inside the building. The strong winds gave the surface of the surge filled parking lot an appearance of "boiling milk" and kicked up sheets of spray with each gust. Near gate 4 of the coliseum, a strong wind kept one of several steel doors blown open, as wave after wave of progressively higher seawater crashed into it. The water level started creeping up the outside glass walls of the lobby, and each large bore sent a torrent of water through the doorways of gate 4, like a scene from a movie like Titanic or something. This seawater then would spill into the gateway, into the playfield area of the coliseum, and creep across the first floor lobby floor. Like a monster's first and subtle attack, there was no way of stopping the water, and it was to get worse. Much worse. The winds reached a point where a loud screeching whistling sound filled the coliseum. Some terrified local residents, who decided not to evacuate the area, sought refuge in the coliseum second floor, looking to commissioner and coliseum owner Bill Holmes as their guide and savior. The water level was to continue rising, until about 5 feet of seawater flooded the first floor. Furniture and other objects floated by on the inside, cars and trucks floated by on the outside, and chairs floated in a race-track pattern around the playfield of the coliseum arena. God is in control now.
Hurricane Katrina reached its highpoint near 11 AM, transforming the coliseum into something out of a surrealistic science fiction movie. The view outside was incomprehensible, cars bobbing in the storm surge waters, their electrical systems shorted and lights, horns, and alarms flashing and sounding. Chris then realizes that his chase vehicle was being overtaken by the rising water on the ramp. He had to move it. This was not possible with the car in front of his, so he rampaged around asking who's car it was. It was Bill Holme's brother John's car. Chris begged him for the keys, then put his keys with John's in a bag, and daringly ventured outside in neck deep water as others screamed at him not to go out. He made it. Hopped on the ramp, moved John's car, then his, and saved both vehicles. He made his way back, back inside, met back with Jeff, then fell to his knees and cried over what he saw floating in the water outside. The storm raged on, but the coliseum concrete dome roof held. Looking across the playfield, you could see cars amidst floating debris trying to get swept in through the gates. The steel doors were gone, and 5 to 10 foot waves roared into the building, destroying everything in their path, even splitting a steel door in half. Most of the first floor lobby was now open to the outside world. On the second floor, the windward side of the building lost all its windows, as Bill Holmes kept advising the locals on how bad it was. Then he told everyone "many people were already killed in the storm", and everyone, including Chris, Jeff, and Jim, broke into tears. One will never forget the look on a terrified woman's face - Never. Too much information.
- 5 -

---
HURRICANE KATRINA - DEATH AND DESTRUCTION

Chris and Jim watched Katrina's fury from a second floor breach in the building, seeing a brief "brightness" in the sky pass by to their west. This was the edge of the eye, but was too far west for any decrease in the winds. The bright area quickly disappeared and it got dark again as the winds shifted from southeast to southwest, still over 100-MPH. Then, something rather remarkable happened. Like God pulling a huge drain plug, the storm surge began retreating, fast. This is called a DRAWDOWN, like the ebb before a tsunami, as the storm surge is always on the forward-right side of a hurricane, and now they on the backside of the storm. Anything freely floating in the water was "sucked" back out to sea. Floating cars, boats, and debris would get trapped and deposited right when the seawater receded. Once again walking across the first floor, Chris, Jeff, and Jim awed at the water-mark left on the wall, which was 4 to 5 feet above the floor of the lobby, which - remember - was 28 feet above the Gulf of Mexico. This implies a storm surge of 32 to 33 feet, very impressive indeed. Chris, Jeff, and Jim documented the destruction as the winds slowly subsided into the afternoon of that fateful day. They could not believe how quickly the water receded. Chris spent about an hour with a crowbar and hammer taking apart a heavy lumber dock so that he could get his vehicle back down the ramp. Everyone at the coliseum was shaken but survived, but across the parking lot in an apartment complex, many were not as lucky, and lost their lives there. Chris and Jim walked about but tried not to look at any debris in detail, as a still hand or leg sticking out of it would freak them out. Many people were dead and missing after Katrina.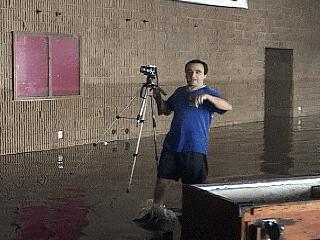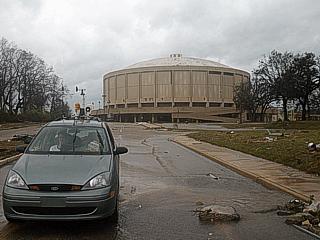 Chris and Jeff decided to leave the area at about 3:30 PM as many became on-edge but Jim stayed behind to rest and help out a bit more. It took nearly two hours for them to make their way just 2 miles inland to Interstate 10, and that was a miracle. Highway 90 was fractured, as if an earthquake hit it, with huge cracks and slabs of it missing. Chris maintained a cool hand at driving around such hurdles, sometimes having to drive off the road, or choose another route altogether. A large casino barge was now ashore, and squashed a first floor of a building as it came to rest on it. Chris and Jeff were appalled to see several people looting and stealing coins from the damaged casino. There was not much they could do, as no government or authority existed at the time. They tried another street, weaving through downed power lines and trees, only to come across the debris-line left by the surge, and had to turn around. Finally, some deputies on 4x4 vehicles questioned their sanity, and them told them to take a route behind a destroyed mall do get to some train tracks, where storm surge damage did not leave an impassible debris front. Chris and Jeff found it, and made it to Interstate 10 through wind damaged areas in about a half an hour.
Jeff and Chris realized that simply getting to Interstate 10 was not the whole challenge. They found boats and debris across the highway, barely missing a jet ski smashed against the median by the high water earlier. To make matters even more challenging, people were driving in both directions on both sides of the highway! Chris and Jeff got on and off the interstate several times until they were finally able to make some headway east in a safe manner. Passing east through Mobile, Alabama was very surreal, as Chris and Jeff could not find a single light anywhere in the city to be seen, just dark silhouettes of the sky-scrapers against a darkening gray evening sky. Passing through Pensacola, Florida involved a long detour around Escambia Bay, and the first lights were seen east of there, and nearly 160 miles east of where Katrina's eye made landfall. There was still nothing open, and no where to get gas. While stopping at a gas station, filling their vehicle using the gas containers brought along, Chris and Jeff watched a Ford Explorer limp into the gas station, pull up to a pump, only to find yellow "bags" on the fuel nozzles saying "closed" as his engine quit and would no longer start as the SUV ran out of gas. Chris and Jeff were grateful as they prepared well for the storm, but not for its emotional impact on them.
- 6 -

---
HURRICANE KATRINA - A LONG ROAD AHEAD

Chris and Jeff continued east on Interstate 10, stopping east of Tallahassee, Florida at a truck stop to take down the weather station from the roof of the vehicle and catch some sleep. The following day, Tuesday, August 30, it finally set in, Chris and Jeff continued home to their places in Florida, tears in their eyes, thinking about what they witnessed and how many people are probably dead, missing, and property destroyed from the beast they just got done chasing. Hearing the national headlines of the severity of the disaster, as well as flooding in New Orleans, which was on the weaker side of the hurricane, only exacerbated their sobriety. This was not just a hurricane chase, this was literally chasing the end of the World, or at least part of it. Meanwhile, Chris and Jeff wiped tears from their eyes as they watched the remnants of once mighty hurricane Katrina, barely a tropical depression, slowly spinning northeastwards towards the east-central United States, robbed of all its virulent power just by simply being over land.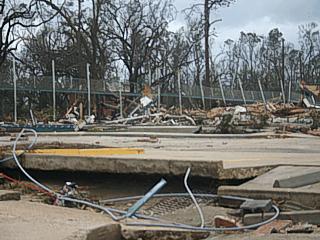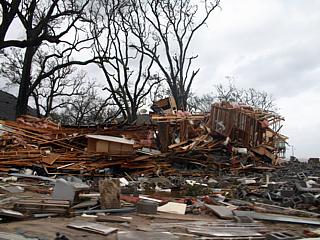 Hurricane Katrina was the worst disaster in the Western Hemisphere in recorded history. This was the "I hope it will never happen in our lifetimes" kind of storm that one will say it may happen "next year" or "a hundred years from now". Unfortunately, it happened, on the morning of Monday, August 29, 2005. Hurricane Katrina drive winds gusting near 165-MPH as far inland as Slidell, Louisiana. Hurricane Katrina produced the highest storm surge ever recorded in the United States, at 34 feet near Biloxi and Gulfport, Mississippi to the right of where the eye came ashore. On the weaker side of the storm, the 10 to 15 foot surge was enough to breech the levees of New Orleans, putting 80 percent of the city underwater for weeks to come. Nearly 2,000 people were killed by this hurricane, and damages exceeded $100 BILLION dollars, over 5-times as costly as hurricane Andrew in Florida in 1992, the previous "most expensive" storm, back in 1992. The storm pushed the United States disaster response to its limits, as it was just too much, and many died simply waiting for help. Dazed and confused New Orleans governor Kathy Blanco tried to take control of the situation, but it was too much. For weeks the levees remained breached, places flooded and destroyed, looting and violence, and more deaths. The US economy, dependant on petroleum, was severely disrupted by Katrina. Even the geography of the coastline off Louisiana and Mississippi was changed forever by the force of the water driven by the storm. The seemingly impossible "enhanced wording" forecast issued from the National Weather Service in Slidell, Louisiana a day before the storm has came to fruition in every horrific detail.
Hurricane chasers Chris, Jeff, and Jim were dazed and mesmerized after chasing hurricane Katrina, and questioned themselves if they even would continue to chase such storms after such an experience. But like everything, life goes on, things get rebuilt, and time heals. With an early July warm-up with hurricane Dennis, and Katrina's big punch, Chris, Jeff, and Jim, driven by their on-going passion for storms, were to go on to chase hurricanes Rita and Wilma, each with their own weapons of mass destruction. They were to go on and make their own DVD's on each of the storms, just like they did in 2004, and give a portion of whatever they sold to the American Red Cross to help any victims of such storms, especially Katrina. Chris was so emotional after Katrina that he donated $100 to the Katrina Relief Efforts just to feel better by "giving" and being generous. Hurricane season 2005 was a mean season, far worse than 2004, and caused incomprehensible death and destruction like no one has ever seen in the United States. One chilling reminder of Katrina's wrath was a lonely man walking along Highway 90 after the storm amidst the destruction. All he had to say was about the last time he saw his wife and child alive: "I tried to hold on to them, and I couldn't. They were taken from me in the flood, and I cannot find them."... Some haunting words that you simply will not forget. With the active year of 2005 ending, many worried about the next hurricane season of 2006 taking one day at a time.
Hurricane season 2005 would be a season these hurricane chasers, as well as others unlucky enough to experience the full fury of a hurricane, will never forget. Hurricane chasing is one of the more precarious types of storm chasing, requires extensive knowledge of tropical cyclones, and is not recommended by anyone who is referenced in this essay. These people can show you how bad a hurricane can be, thus convincing people out of complacency and taking these storms seriously.
- 7 -

---
HTML File "katrina_story.htm" - Developed By Chris Collura
To Return To The HOME Page Of This Site Click The "INDEX.HTM" Link Here!